Mar052009
Filed under Purge Thursday by Kim at 4:58 pm on Mar 05 2009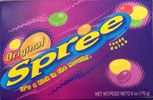 Please note that chewy Spree is an abomination.
Anyways.
I don't have much to show you today, no fancy pictures of my junk. Yesterday I found a large, sturdy shopping bag sitting in the bedroom from Christmas shopping or something. Rather than just throwing it away, I ran around the house grabbing obvious things I want to get rid of until I filled the bag up. The bag which is on its way to goodwill is currently holding:
4 stuffed animals
4 pairs of jeans
6 more candles/candle holders
2 bras
Next time I'm out and considering tossing impulse buys into my shopping bag, I need to think about how annoying it will be when I'm going on a purging spree through my house tossing things in a bag because I know I don't need them and can't use them. Of course, you never think those things you're buying today are going to end up this way, do you?
I once came up with this rule, based on my fetishy relationship to tiny houses and my fantasy life where I live in one, wherein if I were trying to get rid of something I would say, "would I want this in my tiny house?" and hope to make a snap decision based on that. As time has passed, I've stopped applying this directly because I should make use of the house I do live in, which is far from tiny. But it's still there in the back of my head, and was certainly present yesterday on my purging spree.
One Response to "Purge Thursday: Spree!"
1 Angela @ Lost In Splendoron 06 Mar 2009 at 10:25 am
Leave a Reply