Jul012011
Filed under movies by Kim at 12:13 pm on Jul 01 2011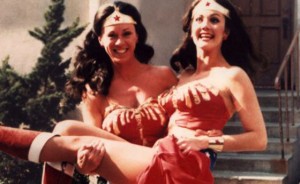 I woke up this morning thinking about a movie I watched last night, and I knew I had to tell you all about it.
As we browsed our sad little watch-instantly netflix queue with trepidation*, Jack remarked, "is that Xena?" Yes! It was! Sort of. I had recently added a documentary called Double Dare to the queue, the story of the recent (circa 2004) career trajectories of two stuntwomen, one a veteran and one  a newbie with one credit to her name so far – that of being Lucy Lawless' double on Xena: Warrior Princess.
First it's plucking the nostalgic heartstrings of that easier time before I really gave  much thought to what wave of feminism I belonged to and got together with my best college friend Telf regularly to watch the new episode of Xena. But it's much more that made me like this film. I felt like I got inside what "real" people see of the dealings of Hollywood, from Jeannie Eppers' attempts to get stunt coordinator  or unit director jobs (but ultimately just continuing to get stunt driver jobs and the like) to seeing Jeannie and Zoe Bell waiting for phone calls and watching reality television in mild horror to seeing the decision process for the stunt awards.
I remember when I first knew who Zoe Bell was from watching Death Proof, which took place well after this film was made. I thought I would loathe Death Proof but as usually happens I am totally proven wrong about Tarantino. (It was the same story with Kill Bill, which incidentally was Bell's big break in the US.) Women are the big stars of these films, and their character's personalities are writ large. And come to find out they give great opportunities otherwise largely unavailable to stuntwomen.
So this morning I woke up thinking about Sucker Punch, a movie I haven't seen but that was touted a bit (and reviled a bit in some quarters) for being a female-empowerment flick, with a big female cast of heroines (or victims, depending on which reviewer you read) so I thought, that must have employed a lot of stuntwomen! I guess if 4 is a lot, out of 27, that's true.
Recently we made time to go out and see X-Men: First Class. I have come to enjoy seeing comic book movies if for no other reason than that Jack is a comic geek, so I love listening to him explain the absurd family connections and plot weirdnesses and comparisons with the comics. As it turned out, I was also Fassbender-ized by the film (he was good!!). This film has about 4 major female characters (if you're feeling generous about Angel**). There are about 78 stunt people credited on IMDB. There are 6 stuntwomen.
So that's why I feel like Double Dare is a really important film. It's not news that our culture is unbalanced, Hollywood is particularly weird, and women have trouble getting jobs in careers that are historically male dominated yes even in the new millenium. But this film shows success, frustration, and best of all the spirit of women to do these things and succeed no matter what. I'm reminded of several quotes from Tina Fey's hugely successful book Bossypants:
"I've known older men in comedy who can barely feed and clean themselves, and they still work. The women, though, they're all "crazy". I have a suspicion – and hear me out, 'cause this is a rough one – I have a suspicion that the definition of "crazy" in show business is a woman who keeps talking even after no one wants to fuck her anymore."

and

"So my unsolicited advice to women in the workplace is this. When faced with sexism or ageism or lookism… ask yourself the following question: 'Is this person between me and what I want to do?' If the answer is no, ignore it and move on. Your energy is better used doing your work and outpacing people that way. Then, when you're in charge, don't hire people who were jerky to you."
Now, I'd like to have dinner with Tiny Fey and debate that a little bit, but I think the conclusion we would come to is that it's not for the hatee to spend their time and energy educating the haters. I mean, some things can't be ignored, right?
Anyways. I give this documentary 5 stars. Have your girl- and boy-children watch it. But fair warning, they do say "fuck" sometimes, because seriously, people get hurt! It's stunts!
* Browsing the netflix queue usually feels like one of those my closet-is-full-but-I-have-nothing-to-wear moments, so we look for something to watch from things that are not on our queue. Surely the dictionary of obscure sorrows has something on this.
** I asked Jack if her name was Angel, "The lady with the wings?" and he said "Yeah, the wasp stripper." Believe me, he meant it to point out how lacking her characterization was!
3 Responses to "Really Late Movie Reviews: Double Dare"
Leave a Reply