Jan072010
Filed under Purge Thursday by Kim at 5:04 pm on Jan 07 2010
I've got some stuff going out this week that might be of interest to y'all. \FREE STUFF to the people!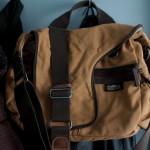 First: A laptop bag by Simple. I thought it would fit things they way I wanted and it didn't really. So I would be happy to gift it to someone who has been wanting a new laptop bag with a nice organic style. It's the combover style, and you can see what the pockets look like inside on zappos. This one is a tan color, as you can see.
Second: A Perfume-Making Kit. 9 small atomisers, some perfumer's alcohol, and pipette thingies to move oils or alcohol from one place to another. I will throw in my BPAL imp box as well. This project worked really, really well for me but I can't use the perfume as fast as the supply I have, and I am kind of a one-note girl these days. This works with one imp or oil sample per atomizer, so it makes your perfume oils go a loooong way. There are notes on the picture on flickr if you want more info.
I'd prefer these go to local folks I can meet up with; I'm not shipping hazmats!
Undocumented: This past weekend I purged a massive carful of clothes, shoes, and sundries. Including some shoes I've had since '98. Looking at the photo I feel a little pang of regret but seriously I haven't worn them in a year.And they were causing hell on my arches when I did wear them. Oh well – they are gone now!
Still to go: A LOT OF THINGS. I still haven't figured out how to deal with the double four poster bed (anyone out there need one???) and I have decided to sell one of the drum kits as well. I have special plans for all my knitting equipment and got boxes to ship that finally. So the wheels are in motion!
10 Responses to "Purge Thursday: Perfumers and Baghounds Take Note"
Leave a Reply